Durable Wooden Boxes Perth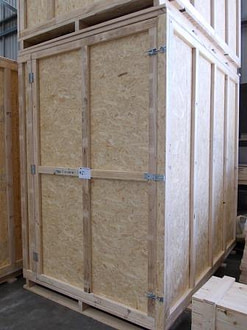 Searching for a cost-effective yet practical packaging solution? Are you planning to move but you have too much stuff to pack into cardboard boxes? Having second thoughts on hiring a standard shipping container because it is too big for your needs? Why not look into the wooden boxes Perth customers trust for their storage and moving projects? At Aussie Crates, we provide a range of wooden box options to suit whatever items you're wanting to move.
Our wooden storage boxes are assembled in such a way that the individual panels are built against each other, leaving no gaps and providing maximum protection. They are specifically built for moving household goods nationally and internationally.
Hinges and adjustable fasteners are attached to one side of the wooden boxes which can then function like a door for easy and repeated access. Each wooden box is built with sturdy timber frames & bases and plywood walls.
GET A FREE QUOTE
When to Use Wooden Boxes or Lift Vans
Wooden boxes for international or national shipment are also known as 'lift vans'. For those of you not familiar with the term "lift van" – this is the industry name for a rectangular wooden box often used to pack household goods and personal effects (as pictured on the right).
Ordered by storage companies and removalists, wooden boxes are an ideal option where the volume of goods to be packed is less than a shipping container load. So, if you do not have enough items to fill a full 20ft or 40ft container, Aussie Crates' wooden boxes or lift vans are your perfect packaging solutions.
Advantages of Choosing Aussie Crates' Wooden Boxes
When you search for the best custom wooden boxes Perth has to offer, you will discover that there are plenty of options available to you, however, not one of them comes close to the level of quality and service we provide here at Aussie Crates. We have been in the industry for decades and we credit our staying power to the solid client base we've built over the years.
Since our customers are important to us, we always make sure that they get the best possible service and products. There are many advantages of choosing wooden boxes from Aussie Crates and we've provided you with a few of them:
Strong, Sturdy and Secure Wooden Boxes
Moving your valuable household items from one place to another can be quite stressful. It can also be frustrating if these items get damaged in transit. Wooden boxes are ideal for keeping your items safe and they can keep unauthorised people from tampering or access the goods inside them.
Trusted Quality
We offer quality wooden boxes, but you don't have to take our word for it—just check out our certifications. Aussie Crates is certified under the Australian Wood Packaging Certification Scheme (AWPCS) for the supply of AS1604 standard wood packaging and ISPM 15 compliant timber. As such, our wooden boxes are designed and built to meet national and international packaging standards.
Reasonable Rates
Here at Aussie Crates, we have a team of experienced craftsmen in Western Australia who use only quality materials for creating wooden storage boxes. At the same time, we offer our services at reasonable rates. This means that you can get quality and secure packaging without burning a hole in your pocket.

Turn to Aussie Crates for your Timber Packaging Needs
When you choose Aussie Crates as your timber packaging supplier, we will custom design and build your wooden boxes, wooden crates, and other packaging solutions according to your specifications and needs. We will listen carefully to your requirements and come up with the ideal packaging solution for you.

We provide free quotes over the phone and for more complex jobs we will come to your premises, free of charge, to measure up the items to be packed.
For quality and practical wooden boxes in Perth, call Aussie Crates at (08) 9358 1355 today. Talk to our friendly and knowledgeable team to see how our timber packaging can be customised to suit your budget.