Quality Wooden Crates in Perth, WA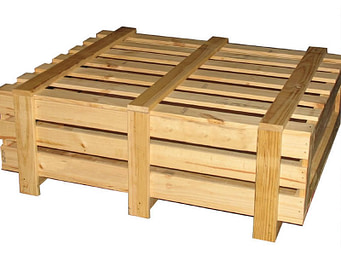 When you are looking for the ideal wood packaging solution in Perth, turn to Aussie Crates. Our wooden crates have slatted sides, top, and floor and they are ideal for reducing overall package weight and allowing internal visibility. If you are looking for a packaging product that offers good protection and excellent air circulation, then our timber crates are your top choice.

Why Choose our Wooden Crates
There are a number of other packaging companies in Perth, Western Australia. However, no other comes close to the level of service we provide. Here at Aussie Crates, we believe that our customers are the reason why we've run our business so successfully for many years. That is why we always make sure that they get the best service and packaging products. When you turn to us for wooden crates in Perth, you can enjoy the following benefits:
Reasonable Rates
While our wooden crates are made from quality materials, they are still offered at reasonable rates. Moreover, they are the cost-effective shipping solution for Perth businesses. The materials are simpler so the processing costs are more affordable as compared to other options.
If you are making huge shipments, our wooden crates are also your ideal packaging solutions. Since the prices are more reasonable, you can order more crates. Even when you're working on a tight budget, you can still get secure and quality packaging.
Secure and Strong
When you want to ensure high levels of security and safety for your shipment, then our wooden crates are the perfect solution. Wooden crates are ideal for protecting items in transit as they offer efficient barrier and buffer for the products they carry. Aside from that, they also prevent unauthorised people from tampering, accessing or stealing the goods inside them. Wooden crates also protect the items from dirt, debris and moisture, keeping them intact and in good condition while in transit.
Stackable Design
Here at Aussie Crates, we design and build our wooden crates with thick walls that can carry the weight of other crates. They are efficient for storage and shipping as they can be stacked on top of each other. As long as the weight is evenly distributed, our wooden crates can carry huge amounts of vertical pressure.
Certified Quality
Aussie Crates is certified under the Australian Wood Packaging Certification Scheme (AWPCS) for the supply of AS1604 standard wood packaging and ISPM 15 compliant timber. Since our wooden crates are designed and built to meet international wood packaging standards, you are sure to get quality products.
Aussie Crates – Your Trusted Timber Packaging Specialists
Give us a call or visit our workshop and we will custom design and build your wooden crates to your meet your specifications exactly. At Aussie Crates, we ensure to study your project requirements carefully. Following this, our team designs and manufactures the perfect wood packaging solution to fit your needs. When you weigh up the costs versus benefits, remember to ask yourself, is a cheaper alternative really worth the risk when you want your products to arrive in one piece?

We provide free quotes over the phone, but for more complex jobs we will come to your premises, free of charge, to measure up the items to be packed.
When you're searching for a custom packaging specialist in Perth, give Aussie Crates a call at (08) 9358 1355 today. Talk to our friendly and knowledgeable team to see how our timber packaging can be customized to suit your budget.